Calibrate Your LCD Screen With a Wallpaper
by
Ugo
When working your photos on a laptop, you usually are on a LCD monitor, right? Have you noticed that as you move the screen back and forth your screen go darker or lighter?
How do we know if we are changing the black levels of our photos correctly? Depending on the position of your head, you will see it different. Tricky.
I found a chart for calibrating the gamma and black levels Norman Koren's website and I thought that putting the chart on a wallpaper might be a good idea, since its easily accessible.
How to adjust The Black Level (extracted and adapted from Norman's website)
Your monitor's brightness control can be adjusted using the mostly black pattern on the right side of the chart. This pattern contains two dark gray vertical bars, A and B, which increase in luminance with increasing gamma. The left bar (A) should be just above the threshold of visibility opposite your chosen gamma (if you use a LCD screen you might aim for 2.0). The right bar (B) should be distinctly visible: brighter than (A), but still very dark.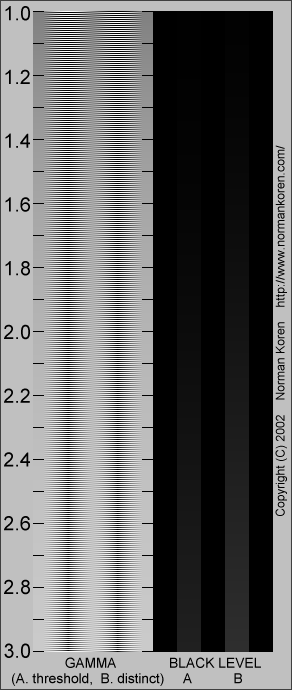 References
http://www.normankoren.com/makingfineprints1A.html#gamadjust
http://www.ghacks.net/2008/01/30/easy-monitor-calibration/